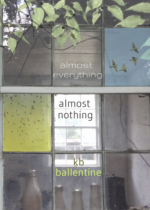 KB Ballentine
Poetry Participant, 2015
KB Ballentine's fourth collection, The Perfume of Leaving, won the 2016 Blue Light Press Poetry Award and appeared in print in early autumn 2016. A few of the poems were written at the Community of Writers. Ballentine's fifth collection, Almost Everything, Almost Nothing, was accepted for publication by Middle Creek Publishing and will be available May 2017. Several of the poems in this latest collection were conceived and workshopped at Squaw Valley, including the title poem of the book. Selected as Author of the Month for Barnes and Noble, Chattanooga, Ballentine will be reading poetry from both collections on Friday, April 28, from 6.30-7.30 pm.
http://www.kbballentine.com
Attended with the help of The Galway Kinnell Memorial Scholarship.