The 2024 Summer Writing Workshops in Poetry, Fiction, Memoir, and Narrative Nonfiction
For over 50 summers, the Community of Writers has brought together poets and prose writers for two separate weeks of summer writing workshops, individual conferences, lectures, panels, readings, and discussions of the craft and the business of writing. Our aim is to assist writers to improve their craft and thus move them closer to achieving their goals.
POETRY PROGRAM
---
The Poetry Workshop is founded on the belief that when poets gather in a community to write new poems, each poet may well break through old habits and write something stronger and truer than before. The idea is to try to expand the boundaries of what one can write. In the mornings we meet to read to each other the work of the previous twenty-four hours, and in the late afternoons we gather for a conversation about some aspect of craft.
WRITERS WORKSHOPS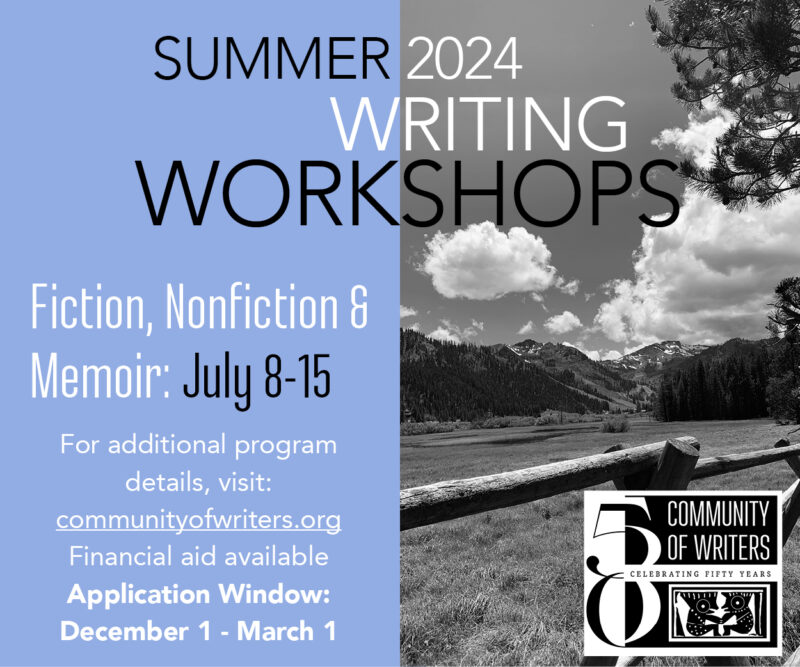 ---
The Writers Workshops offer a week of formal and informal workshops, seminars, panel discussions, craft talks, and staff readings. Each participant is provided several opportunities to have his or her work critiqued by the writer-teachers, editors and agents of the staff in regular morning workshops, open workshops, and a one-on-one conference.
---