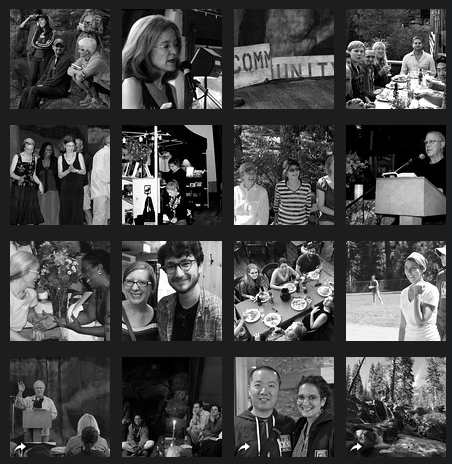 Craft Talk Recordings
Listen to recent recordings of craft talks and panels at the Community of Writers.
Craft Talks
Video
View recent and historical videos from the Community of Writers.
Our News (Blog)
Visit our blog, Our News, to get information about our Summer Writing Workshops, the teaching staff, deadlines, events and other offerings.
Current Alumni News
Visit our Omnium Gatherum & Alumni News for current publication news from alumni and teaching staff.
Photo Gallery
Visit our Photo Gallery to view more than ten years of summer workshops and year-round literary events. We invite you to use images in articles related to our conference or our writers, but please contact us for permission in advance.
Books & Anthologies
The Community of Writers has produced several books and anthologies that represent some of the fruits of our conference.
Books & Anthologies
Public Events
Thinking of coming to Olympic Valley to attend one of our events this summer? To view event listings view our Public Events.
View our Archives of Public Events.
Press Room
View our logos, images and archives of our brochures and public events schedules to gather a sense of our history and offerings. Press Room
Newsletter Archives
The Omnium Gatherum & Newsletter was published and mailed almost every year since 1994. Filled with news of the publishing and other successes of our past-participants and staff, along with profiles, interviews, and articles about writers and writing, and notices of Community of Writers' events and activities, the Omnium Gatherum & Newsletter was a forum for past, current and future members of the Community of Writers.
Now we are moving the Omnium Gatherum to a new, more current form, online. (See Current Alumni News, above.)
Newsletter Archives
Brochure & Schedule Archives
Community of Writers publishes a brochure each year with the announcement of the annual summer writing workshops held in Olympic Valley. View our archives of past brochures to see the names of past teaching staff and guests.
Brochure & Schedule Archives
Webpage Archives
Recent Press
Sacramento Bee, August 9, 2017 by Stephanie Taylor
The Union, July 20, 2017 Opinion: "Gods of letters gather in Squaw" by Don Rogers
The Union, June 22, 2017 "An evening of acclaimed poetry: Pulitzer-Prize winners, former U.S. Poet Laureate among writers at Miners Foundry Friday" by Rachel Howard