The Omnium Gatherum & Newsletter was published and mailed almost every year since 1994. Now we are moving the Omnium Gatherum to a new, more current form, online. Alums and staff are encouraged to post their news directly to the website, and can even attach an image and choose what month the news should be posted. We will view the post, and edit if necessary, and post it during the requested month.
Alums can follow the news of their friends by scrolling, or by viewing by program. We will send out an email each month, reminding folks of the new posts. Join us as we explore this new way of sharing your news as well that of other participants and staff. Follow us as we post Participant Profiles and other topics of interest.
Download and view our recent Issues below:
The Omnium Gatherum & Newsletter was a printed newsletter which has now been retired. Filled with news of the publishing and other successes of our past-participants and staff, along with profiles, interviews, and articles about writers and writing, and notices of Community of Writers' events and activities, the Omnium Gatherum & Newsletter was a forum for past, current and future members of the Community of Writers.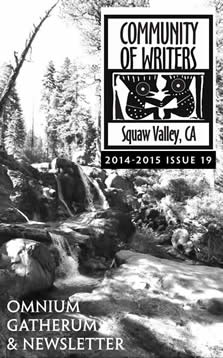 Omnium Gatherum Archives:
Older issues to come…
Get the new Omnium!
To receive notice of the Omnium Gatherum & Alumni News by email, please send us your new contact information.
Share Your News
Let your friends and fellow writers, agents & editors know about your latest accomplishments by sending us your news for the Omnium Gatherum & Alumni News.