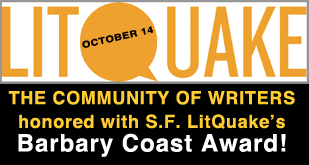 We are delighted to announce that the Community of Writers will be recognized by San Francisco's Litquake with its annual Barbary Coast Award! Join us on October 14, as Litquake hosts a tribute event for the Community of Writers during its nine-day literary festival.
According to Litquake, the award is presented each year to "a dynamic Bay Area author or literary organization for a lifetime of literary achievement." We are very honored, and we hope you will join us for the celebration!
The tribute, "Go Tell it On the Mountain," takes place October 14 at 8:00 p.m., and will be held at Z Space, at 450 Florida St. in San Francisco (see map). Tickets are $15, and you can purchase them in advance here or take your chances at the door. The event will include Community of Writers alums, teaching staff, live music by Los Train Wreck, and other shenanigans.
Alums: Join your friends from the workshops and come together! If you are in the area, we'd love to see you!