We couldn't be more excited to report the new that Juan Felipe Herrera, the current Poet Laureate of the United States, will be teaching at the Poetry Workshop in Squaw Valley this summer. He will join staff poets Kazim Ali, Robert Hass, Cathy Park Hong, Patricia Spears Jones, and Sharon Olds. The application deadline has been extended to April 8th.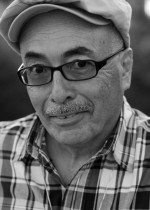 Juan Felipe Herrera is the 21st Poet Laureate of the United States (2015-2016) and is the first Latino to hold the position. From 2012-2014, Herrera served as California State Poet Laureate. Herrera's many collections of poetry include Notes on the Assemblage; Senegal Taxi; Half of the World in Light: New and Selected Poems, a recipient of the PEN/Beyond Margins Award and the National Book Critics Circle Award; and 187 Reasons Mexicanos Can't Cross The Border: Undocuments 1971-2007. He is also the author of Crashboomlove: A Novel in Verse, which received the Americas Award. His books of prose for children include: SkateFate, Calling The Doves, which won the Ezra Jack Keats Award; Upside Down Boy, which was adapted into a musical for young audiences in New York City; and Cinnamon Girl: Letters Found Inside a Cereal Box. Herrera is also a performance artist and activist on behalf of migrant and indigenous communities and at-risk youth.
For more information about the poetry program, please visit the Poetry Workshop page.