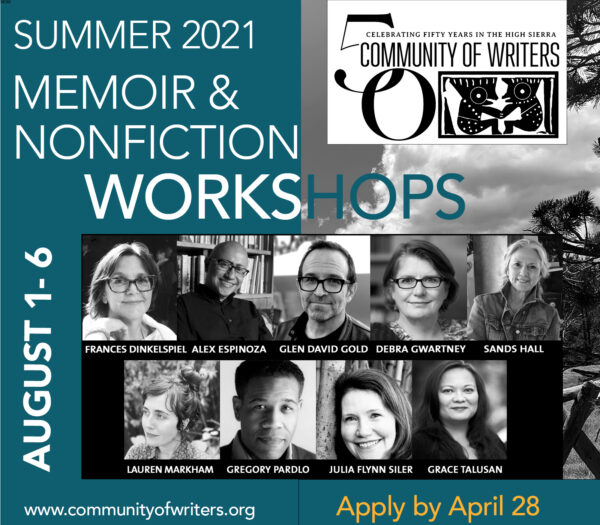 August 1 – 6 , 2021 in the Virtual Valley
Join us for craft panels and readings which will take place as part of our workshop week.
Offerings includes craft discussions, panels on editing and publishing, and staff readings, and brief individual conferences.
Please see our schedule below.
These events are free; donations welcome.


All times Pacific.
Monday, August 2
1:00 PM: Panel: Structure and Other Essential Narrative Strategies in Memoir and Nonfiction, with Alex Espinoza, Debra Gwartney, Sands Hall, Julia Flynn Siler, moderated by Frances Dinkelspiel
5:00 PM: Short Takes: Staff read work in progress and talk about issues of craft: Frances Dinkelspiel, Alex Espinoza, Julia Flynn Siler, Martin J. Smith
Tuesday, August 3:
1:00 PM: Panel: Locating and Researching the Story You Need to Tell with Lauren Markham, Julia Flynn Siler, Martin J. Smith, Grace Talusan, moderated by Alex Espinoza
Thursday, August 5:
1:00 PM: Writing About Family and Other Difficult Topics, with Glen David Gold, Sands Hall, Gregory Pardlo, and Grace Talusan, moderated by Debra Gwartney
5:00 PM: Short Takes: Staff read work in progress and talk about issues of craft: Glen David Gold, Debra Gwartney, Gregory Pardlo
Friday, August 6:
1:00 PM: Panel: Short Forms, Hybrid Forms with Frances Dinkelspiel, Alex Espinoza, Debra Gwartney, Martin J. Smith, moderated by Sands Hall