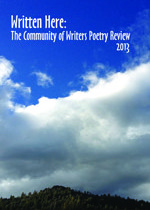 Written Here: The Community of Writers Poetry Anthology is now available in time for holidays. This anthology is a collection of poems first written in Squaw Valley at the 2013 Poetry Workshop. This anthology makes a great gift, and all proceeds from sales of Written Here: The Community of Writers Poetry Review 2013 benefit the Community of Writers Poetry Scholarship Fund.
The Poetry Workshop of the Community of Writers is held each summer in Squaw Valley. At the workshop, student and staff poets write a new poem each day to be read aloud in the morning session. This gathering of poets, all striving to express ideas, emotions, and conceptions, engenders a climate of mutual support, trust, and encouragement. which makes possible this daily act of courage and trust.
Written Here continues the tradition of publishing poems that first emerged during the summer's Workshop. The poems appearing in these pages were selected by a team of editors, themselves workshop participants, from the work submitted by their fellow poets.
Proceeds from the sales of this anthology benefit the Poetry Workshop Scholarship Fund.
Edited by William Clark, Jennifer C. Humbert, and Lori Singer Meyer.
Contributors:  Cynthia Arrieu-King, Conor Bracken, John Briscoe, Marte Broehm, Will Clark, Flower Conroy, Heather Dobbins, Timothy Dyke, Emma Estrella, Ann Fisher-Wirth, Forrest Gander, Todd Germain, Kathy Gilbert, Christine Gosnay, Ken Haas, Amy Haddad, Robert Hass, Pamela Sue Hitchcock, Jennifer Humbert, Cameron Jackson, Hillary Katz, Curt Last, Lester Graves Lennon, Annie Mascorro, Lori Singer Meyer, Monica Minott, Lisa L. Moore, Sawnie Morris, Meryl Natchez, Diana Khoi Nguyen, Amy Pence, Anna Ross, Larry Ruth, Peter Schireson, Meara Sharma, Evie Shockley, Jacqueline Hughes Simon,  Kathi Stafford, Carl Steen, Sheila Davies Sumner, Paul Watsky, David Watts, and Martha Yates.
Please note that it takes a few days to print and ship your order, so order soon!
Other issues of the Review, as well as copies of Writers Workshop in a Book, are available on our Books & Anthologies page.