---
Now that the summer is over, we need to acknowledge all of those writers and poets who helped make the summer workshops what they are. As they have for the past 46 years, the Summer Workshops came together with the help and guidance of many friends. Summer 2016 was no exception.
The 2016 Benefit Poetry Reading:
The Benefit took place in Berkeley in June, and was in the honor of our late good friend CD Wright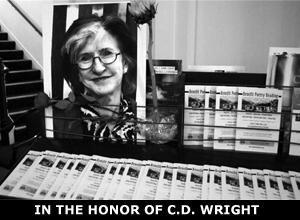 who died in January. Many thanks are in order, especially to the participating poets:  Kazim Ali, Brenda Hillman, Robert Hass, Patricia Spears Jones, Sharon Olds, and Emcee Kevin Simmonds. Huge thanks also go to Allison deLauer, the Event Coordinator. We couldn't have done it without our sponsors: The Entrekin Foundation, Berkeleyside.com, the Berkeley Art Center and especially Deborah Dashow Ruth. Thanks to BOA Editions, University of Arizona Press, W.W. Norton, Wesleyan University Press, and White Pine Press for donating books, and to Lisa Rappoport at Littoral Press. Thanks to Larry Rafferty for creating and donating the C.D. Wright broadsides. Enormous thanks to Sheila Davies, Christina Hutchins, Meryl Natchez, Julia Flynn Siler, Deborah Ruth, and Larry Ruth for their help with publicity. Thanks to our enthusiastic volunteers: Shannon Bright, Jeremy Cantor, Marsha Cantor, Megan Coss, Ilana Cripsi, Fran Culp, Kevin Fitchett, Emily Knight, Tereza Joy Kramer, Tanya Macedo, Joan A. Monheit, Julie Prentice, Caroline Smadja, Sarah Taft, Elizabeth Weaver, and Tinsley Zhu.
Funds from this Benefit go toward Scholarships and financial aid for talented poets to attend in 2017.
The Summer Workshops
As they have for the past 46 years, the Workshops came together with the help and guidance of many friends, and this year the P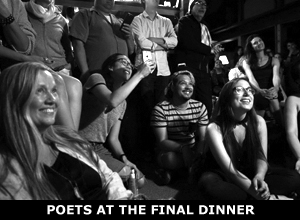 oetry Workshop and Writers Workshops were just terrific. First and foremost, I want to acknowledge our teaching staff. Their generosity, wisdom, and warmth help create this atmosphere of camaraderie and mutual respect. I also want to thank our Directors Lisa Alvarez, Michael Carlisle, Diana Fuller, Robert Hass, and Louis B. Jones, who steer this boat.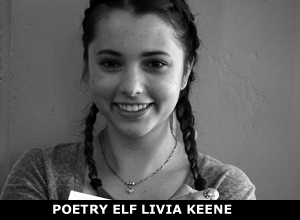 Many thanks to Kaitlin Klaussen, who coordinated housing and ran a lovely popup bookstore; to Amy Rutten, who joined us in the office last year and has been an extraordinary member of the team making everything work better; to Tracy Hall for documenting the goings-on with her camera; and to Tracy, Jim Chumbley, Hunter Jones and Lindsey Gordon for creating our all important, though humble, snack bar.

Our Elves (and all-around helpers) were Naomi Barnett, Jesse Bedayn, Emma Fisher Smith, Lindsey Gordon, Dashiell Jones, Hunter Jones, Livia Keene, Audrey Rose Rawson, Eva Melas, Delia Pepper, Romain Telles and Louis Tonkovich.  We couldn't do it without them! Thanks to the yeoman's efforts of Angus Weisenburger, who managed the sound system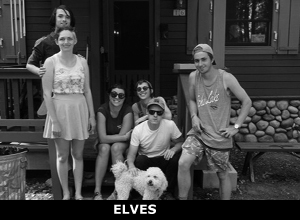 and recorded our events and will put them on our website as podcasts. 
We had some heroes in our midst during the Poetry Workshop when an experienced hiker nevertheless got lost on the mountain after dark. As Husayn Carnegie, Eliot Schain and Larry Ruth set off in the gloaming, we were reassured that our missing poet would be found.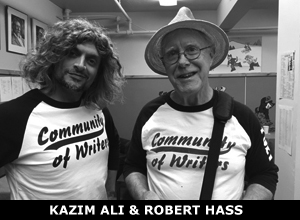 Immense thanks to Ben Preston who –with great cheer– helped us move out of and then back into the storage locker at the beginning and the end of our workshops season. He made it all so much easier!
Alum and Writers Workshop staff member Mary Volmer arrived early and, along with Andrew Tonkovich, helped with manuscripts at
registration. Speaking of Andrew, we are indebted to him for all his help: from the management of all the manuscripts during registration to moderating panels and editing work! And thanks to Sands Hall for the inimitable Follies and for hosting Poetry's final dinner. Liz Thiem and Storey Rafter graced our Poetry party with delicious food and good humor. I am also very grateful to Michelle Latiolais for her wisdom and support. Thanks also to Rachel Howard for helping out with the July picnic. We would like to acknowledge our friends who have been tremendously generous with their time and support over the years: Eddy & Osvaldo Ancinas, Mimi & Burnett Miller and Amy Tan & Lou Demattei. And of course I'd like to express my gratitude to our Board of Directors.
We want to express our thanks for the two Special Workshops we offered this summer during the Writers Workshops: "The Art of Revision," led by Mark Childress; and "Adaptation: From Story to Screen," taught by Craig Bolotin.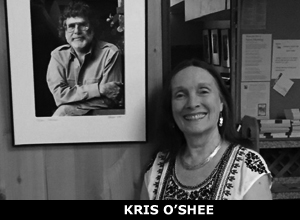 Many thanks to the family of Alan Cheuse who traveled across the country to be here for our "A Writers Tribute to Alan Cheuse," arranged by Lisa Alvarez. We were so honored and moved to have Alan's wife, Kris O'Shea along with Alan's daughters Emma and Sonya join us for the tribute. During the event, friends of Alan's performed music and read short excerpts from Alan's lifetime of writing. Thanks to 2017 participant Melissa Dodd for sending the cellphone recording (below) of "The Water is Wide," performed by Sands Hall, Louis B. Jones, Jason Roberts, Amy Rutten, Caridwen Spatz, Greg Spatz, and Naomi Barnett. 
And of course, I'd like to express my sincere appreciation to all of you who have given to the Community of Writers.
 —Brett Hall Jones, Executive Director
Listen to "The Water is Wide" (click to play)