We are excited to announce the publication of Galway Kinnell's Collected Poems, just out this week from Houghton Mifflin Harcourt!
The definitive collection of poems from Pulitzer Prize-winner, MacArthur Fellow, National Book Award-winner, and Community of Writers Poetry Program founder, Galway Kinnell.
"It's the poet's job to figure out what's happening within oneself, to figure out the connection
between the self and the world, and to get it down in words that have a certain shape, that have
a chance of lasting." —Galway Kinnell
The Poetry Program, as we've practiced it since 1985, was Galway Kinnell's design, along with Sharon Old's. When he became director, he created a poetry program different from any other that operated on very simple principles.: to write a new poem every single day, avoid critical comments and find what is working in each other's poems. Galway died in 2014 and left a legacy of poetry and community that can find no parallel.

Now comes the long-awaited compendium of  his work: "a body of poetry that pushed deep into the heart of human experience" (New York Times). This vast collection is the very first to represent Kinnell's entire body of work, including seven previously uncollected poems. Collected Poems collects 65 years of, as he would call poetry, " inspired thought." This large and lovely volume is sure to be an essential part of any poetry collection, especially of those who worked with him at the Community of Writers.
From the Publisher: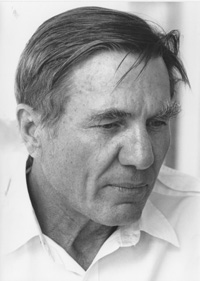 In a remarkable generation of poets, Galway Kinnell was an acknowledged, true master. From the book-length poem memorializing the grit, beauty, and swarming assertion of immigrant life along a lower Manhattan avenue, to searing poems of human conflict and war, to incandescent reflections on love, family, and the natural world—including "Blackberry Eating," "St. Francis and the Sow," and "After Making Love We Hear Footsteps"—to the unflinchingly introspective poems of his later life, Kinnell's work lastingly shaped the consciousness of his age.
In his introduction to the book, Edward Hirsch writes: "Reading over Kinnell's work as a whole, one finds that he was essentially looking for ultimate meaning, which he could not find in a provisional universe. What he could create was a poetry that embraced our earthly hold, the bonds of connection, the nature of being. His ambition was overarching. He dreamed of a true poem of embodiment, one that would incorporate as much of the available world as possible. That dream is realized as these Collected Poems, the single work he was writing all his life, his Leaves of Grass. It could be described as Tenderness Toward Existence."
"There's no one whose work has so often and with such consistency brought into the world a sense of wonder and exaltation, no one who so often discovered rich new harmonies of poetic language, no one who devised so many metaphors that resonate through so many levels of materiality and spirit, uniting the physical with the moral and passion with thought. In short, there's no one whose work has elaborated so ample and comprehensive a vision of the lives we've lived." — C. K. Williams, The New Yorker
Galway Kinnell published ten books of poetry, a novella, and several books of translations, including of the poetry of François Villon and Rainer Maria Rilke. In 1982 his Selected Poems won the Pulitzer Prize and the National Book Award. A former MacArthur fellow and State Poet of Vermont, he was the Erich Maria Remarque Professor of Creative Writing and the cofounder and longtime mentor of the graduate creative writing program at New York University. For many years he enriched the life of American culture, not only through the printed word but also through his teaching, his devotion to the tribe of poets, and his indelibly powerful public readings.
We hope you will go to your local or online bookseller and purchase a copy ($35.) Or, for the next 10 donors of $250 or more, we will send you a copy as a thank you gift.
---