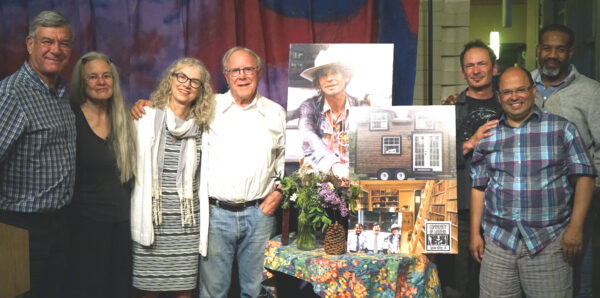 On Thursday, June 19, 2017, the Community of Writers at Squaw Valley memorialized one of its longtime friends, the late Paul Radin, whose family then honored his memory with a significant and defining gift to the work of our non-profit.
Mr. Radin's family, including brothers Robert Radin of Florida, and David Radin of New York, donated funds to the Community dedicated to the purchase of a portable "tiny house" on wheels to be used as a portable office and bookstore onsite during the conference weeks in Squaw Valley.
We are so pleased at the poetry expressed in this gift.  A house on wheels is wonderfully emblematic of the ethos and spirit of our enduring of this transient, yet half-century enduring community.  This gift is just perfect, and responds to a long-standing need for an office, archives, bookstore space.  In addition, the tiny house will have a charming, whimsical aspect to remind us of Paul, who brought curiosity, poetry and goodwill to our summers.
Although the Tiny House has yet to be built, it will be dedicated The Paul Radin Memorial Writers' Lodge.
The remembrance ceremony in honor of Paul Radin preceded the Community's annual poetry reading, with remarks by director Jones, editor and writer Andrew Tonkovich, and novelist Louis B. Jones, who knew Radin and helped care for him as he struggled with illness, as well as former Board President Burnett Miller.  Robin Radin represented the family.
Paul Radin was born in Boston, was a singularly recognizable character in the neighborhood whose commitment to the study of philosophy, Judaica, Native American culture and ecological wisdom defined the way he lived, as close to Nature as possible, on property owned by his family on the Truckee River.  He was an early guest at the Community of Writers' summer poetry and fiction workshops. He would attend the annual gathering and would attend the readings and events, befriending writers and occasionally sharing his own writing.  His scholarly interests included research on Native American culture, in which he immersed himself, often attending pow-wows.
Legendary was Radin's arrival one summer on horseback, wearing his trademark flat-brimmed hat and western boots.  We all remember his dramatic entrance with white horse and enjoyed his recollections of the seminal years of the Conference
Paul  was a part of this community. We are so grateful to his family for permanently including his place in it through this timeless gift.  Paul had a home with us.  Now he has given us a small home.