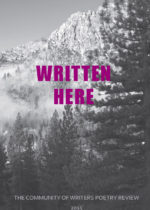 Written Here: The Community of Writers Poetry Anthology 2015, a collection of poems first written in Squaw Valley at the 2015 Poetry Workshop, is now available.
Written Here continues the tradition of publishing poems that first emerged during that summer's Poetry Workshop. Student and staff poets write a new poem each day to be read aloud and discussed in the morning session. The gathering of these talented poets in a climate of mutual support and encouragement makes possible this daily act of courage and trust.
The poems appearing in these pages were selected by a group of editors—themselves workshop participants—from the work submitted by their fellow poets.
Proceeds from the sales of this anthology benefit the Poetry Workshop Scholarship Fund.
This edition of Written Here was edited by Emily Wolahan, Jules Wood, Michelle Meyers, KB Ballentine, Carolyne Whelan, and Jon Riccio. Typsetting by Caitlin Neely.
Contributors:  Doha Aboul-Fotouh, Heather Altfeld, Amy Antongiovanni, KB Ballentine, Mallory Bass, Ross Belot, Toby Bielawski, Judy Brackett, Tim Carrier, Elizabeth Chapman, Jolie Clark, Christine Holland Cummings, Deborah Friedman, Forrest Gander, Kirk Glaser, Laurie Glover, D. M.Gordon, Brenda Hillman, Bethanie Humphreys, Troy Jollimore, Bonnie S. Kaplan, Muriel Karr, Tehmina Khan, Kayla Krut, Lester Graves Lennon, Maya Marshall, Liz Meley, Jeanne Morel, M.D. Myers, Jess Nathan, Angela Peñaredondo, Mark Price, Jon Riccio, Magali Roy-Fequiere, Lindsey Royce, Debra Dashow Ruth, Rachel Sahaidachny, Gini Savage, Evan Schnair, S. Shaw, Evie Shockley, Monica Sok, Laura Swearingen-Steadwall, Ann Tweedy, Vicky Vertiz, Carolyne Whelan, Bakar Wilson, Mary Winegarden, Emily Wolahan, Aliesa Zoecklein, and Stan Zumbiel.
Other issues of the Review, as well as copies of Writers Workshop in a Book, are available on our Books & Anthologies page.