Join us for private online consultations: Fiction and Memoir First Aid!

Friday, February 26. Appointments available between 10 am and 5:30 p.m (Pacific)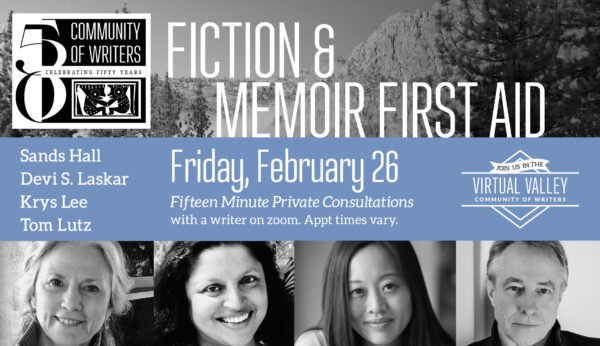 Private 15-Minute Appointments     $30
First-come first-served: appointments are limited.
Quick fifteen-minute consultations will be offered on Zoom with some of our wonderful writer-teachers, including Sands Hall, Devi S. Laskar, Krys Lee, and Tom Lutz  Come with a question. Or come with a page. Having a thorny problem with a story? Worried about the end of your novel? Do you have issues about the writing life? This is the place to get fresh insight. The focus of your session is up to you.
Sign up for a consultation today. You will be paired with one of these generous and talented writer-teachers. (You may request your top two choices of staff member, subject to availability. ) If there is a time of day (between 10 AM – 3 PM Pacific) that doesn't work for you, please let us know.
Come with a question: Issues about dialogue, prose style, characterization? Come to the session prepared with a question or more than one! The time is yours.
Or come with a page: Need help with dialogue or prose style? Submit one page, double spaced (limit 250 words), and a staff member will respond to what's on the page and beyond.
To read a bio, click on the name below, or view them all as a list.
Registration open now, and closes Friday, February 26 at 8:00 AM (Pacific).
Once you register, we will be in touch with your appointment details.
Please make sure you've downloaded and installed the most recent version of Zoom and have good audio and video available.
(Cancellations for full refunds, to be considered, must be requested before 8 am on Friday.)
*Thanks to Sharon Olds who originally coined this term for the Poetry Workshop's "Poem First Aid."