The Community of Writers is honored to present a five-week intensive series on the life and work of Galway Kinnell, led by Major Jackson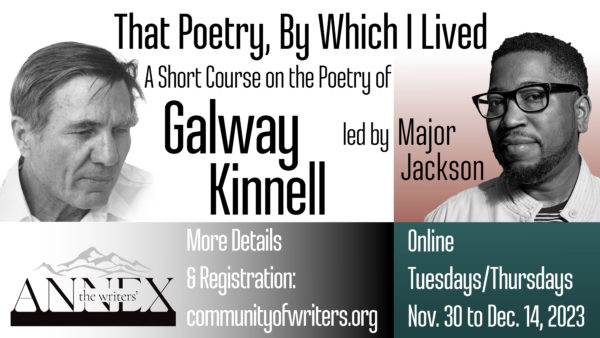 Galway Kinnell remains one of the most important poets of his generation simply for the distinct insistence on the primacy of our human natures, which served as an immense source for his ecological and spiritual imagination. Guided by a rapturous and ecstatic spirit attuned to the consciousness, pleasures, and injustices of his age, his poems exhibit inherent moral and social visions and invite readers to revel in that which binds us to each other and the natural world. We will study a selection of poems by this influential poet whose attitudes toward poetry and life shaped the ethos of the Community of Writers Poetry Program.
Supported by APM Studios and the Slowdown Show.  

Dates & Times: Online Tuesdays & Thursdays from November 30 to December 14, 2023: 4 pm- 6-pm (Pacific)