The Community of Writers is honored to present a five-week intensive series on the life and work of Galway Kinnell, led by Major Jackson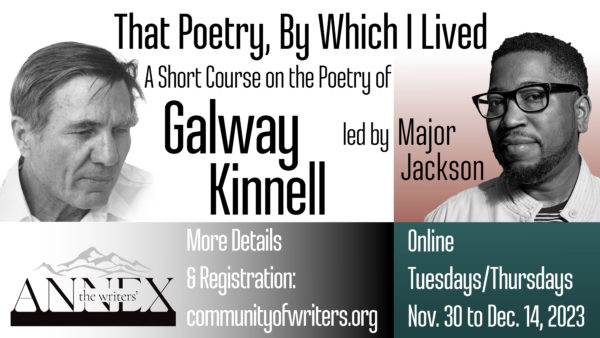 Galway Kinnell emerged as one of the most important poets of his generation simply for the distinct insistence on the primacy of our human natures, which served as an immense source for his ecological and spiritual imagination. Guided by a rapturous and ecstatic spirit attuned to the consciousness, pleasures, and injustices of his age, his poems exhibit inherent moral and social visions and invite readers to revel in that which binds us to each other and the natural world. We will study a selection of poems by this influential poet whose attitudes toward poetry and life shaped the ethos of the Community of Writers Poetry Program.
Dates & Times: Online Tuesdays & Thursdays from November 30 to December 14, 2023: 4 pm- 6-pm (Pacific)
Thursday, November 30, 2023 
Tuesday, December 5, 2023 
Thursday, December 7, 2023 
Tuesday, December 12, 2023  
Thursday, December 14, 2023 
Note: For those who are interested, intimate Zoom discussion groups (Virtual Houses) will meet after each session and on subsequent Saturdays at 10 AM.
What to Expect:
Five, two-hour weekly sessions online with assigned reading. The group can be large, depending on the course.
In the first 60 or 70 minutes, Jackson will explore and supply background on the previously assigned poems.
In the second part, Jackson will address questions and widen the discussion. Participant questions and comments will be submitted in Vimeo's chat feature.
Optional small (8-10 person) discussion groups will be available to those with the energy and interest after the formal session is over. Discussion guides will be provided.
These sessions will be recorded, and will be available for later viewing by registered participants for 30 days following the final session.
Course Texts
Participants who don't own the texts, are asked to purchase them, if possible, before November 30.
For this course, our text will be
Collected Poems Galway Kinnell (ecco)
; handouts for each session will be posted online.
Course Plan:
Session 1 (Nov. 30): Introduction and Early Poems Session 2 (Dec. 5): 
The Book of Nightmares
Session 3 (Dec. 7):
Mortal Acts, Mortal Words & The Past
Session 4 (Dec. 12):
When One Has Lived a Long Time Alone
Session 5 (Dec. 14):
Strong Is Your Hold
(Later Poems) and Kinnell's Legacy
Bios
Major Jackson
is the author of six books of poetry, including Razzle Dazzle: New & Selected Poems (2023),
The Absurd Man
(2020),
Roll Deep
(2015),
Holding Company
(2010),
Hoops
(2006) and
Leaving Saturn
(2002), which won the Cave Canem Poetry Prize for a first book of poems. His edited volumes include:
Best American Poetry 2019
,
Renga for Obama
, and Library of America's
Countee Cullen: Collected Poems
. He is also the author of
A Beat Beyond: The Selected Prose of Major Jackson
edited by
Amor Kohli
. A recipient of fellowships from the Fine Arts Work Center in Provincetown, Guggenheim Foundation, National Endowment for the Arts, and the Radcliffe Institute for Advanced Study at Harvard University, Major Jackson has been awarded a Pushcart Prize, a Whiting Writers' Award, and has been honored by the Pew Fellowship in the Arts and the Witter Bynner Foundation in conjunction with the Library of Congress. He has published poems and essays in
American Poetry Review, Kenyon Review, The New Yorker, Orion Magazine, Paris Review, Ploughshares, Poetry,
and
Poetry London
. Major Jackson lives in Nashville, Tennessee where he is the Gertrude Conaway Vanderbilt Chair in the Humanities at Vanderbilt University. He serves as the Poetry Editor of
The Harvard Review
and host of the podcast
The Slowdown
.
Galway Kinnell
founded the
Poetry Program
at the Community of Writers on the belief that "when poets gather in a community to write new poems, each poet may well break through old habits and write something stronger and truer than before." He was Poet Laureate of Vermont from 1989 to 1993. Kinnell published 18 books of poetry, including
Strong Is Your Hold
(2006);
A New Selected Poems
(2000), a finalist for the National Book Award;
Imperfect Thirst
(1996);
When One Has Lived a Long Time Alone
(1990);
Selected Poems
(1982), for which he received both the Pulitzer Prize and the National Book Award; and
Mortal Acts, Mortal Words
(1980). He directed the Poetry Program from 1983 until 2003, when Robert Hass came on as Director.
Tuition:
Tuition is $300.
Early Bird discount tuition of $270 (closes on November 15, 2023). Limited financial aid available. Please contact us if needed.
Supported by APM Studios and the Slowdown Show

The Writers Annex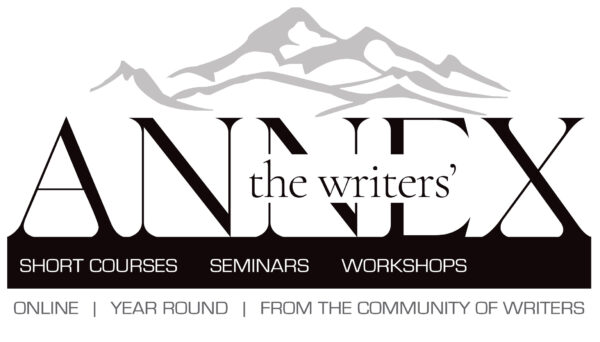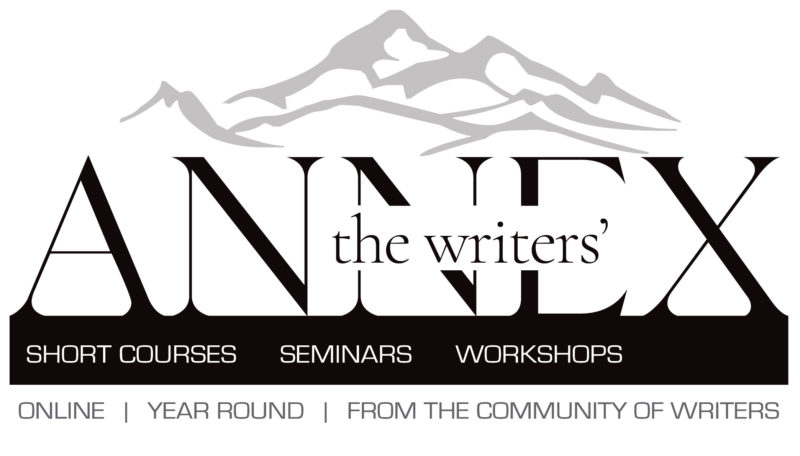 Online, and year-round,
The Writers' Annex
 is composed of short courses, seminars, workshops, and more. Our vision is to bring the creative insight and experience of our staff poets and prose writers to our community in all seasons, not just in the summertime, and not just here in our Valley.  Our online offerings will address such topics as eco-poetics, translation, and generative sessions. Some will be one or two days, some will be weekend intensives, and some will meet weekly for a month or two. In addition, we hope these offerings will help offset the tremendous expenses we face as an organization for our traditional in-person events in Olympic Valley.   
Join our Mailing List
Register For That Potry, By Which I Lived