A Short Course offered by
Kazim Ali
Online Thursdays, April 21-May 12, 2022 
If you have already registered, check your email  for details and links to the Headquarters Page.
The password can be found in your email. If you have any trouble, call 530-470-8440 or  text 530-205-8779.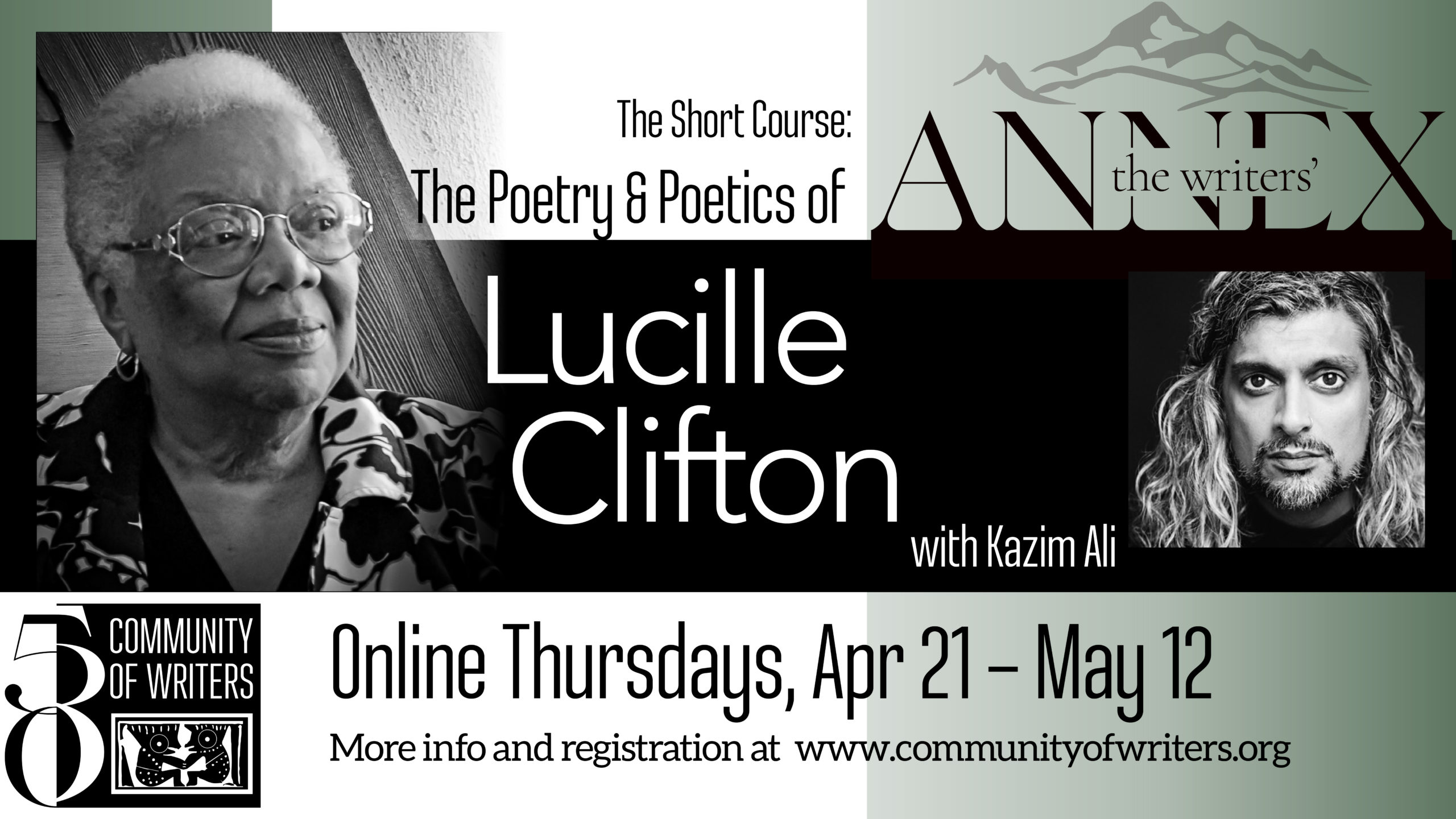 Lucille Clifton's legacy as a poet, writer, and educator is far reaching and fundamental to the poetics of the 20th century and today. Championed by such giants as Robert Hayden, Toni Morrison, and Carolyn Kizer early in her career, Clifton became one of the major American poets of the last part of the 20th century. She was Maryland's third poet laureate, an NEA fellow, an Emmy award winner and a Robert Frost Medal recipient for lifetime achievement. Her work has—if anything—become even more influential on generations of younger poets after her passing. Readers go to the poetry of Clifton for spiritual relief, for plangent music, for sharp social and political critique. Perhaps less studied and appreciated was Clifton's mastery of prosody and poetic form.
This short course in Clifton's work will examine the major themes and qualities of her poetry. No background in poetry is necessary to learn and enjoy the majestic poetic work of Lucille Clifton.
Kazim Ali met Lucille Clifton on his 24th birthday, while still a graduate student at the University at Albany when she came to campus as a visiting writer. He studied with her at the Community of Writers in the summer of 1998, and has published several critical essays on her work. He remained friends with her the rest of her life, seeing her for the last time shortly before her passing during one of her visits to their mutual hometown, Buffalo, NY. She is one of two people on the planet who are allowed to call him "Kaz."
 This short, online course is for anyone who has an interest in reading or writing poetry.  All are welcome.
Text:   The Collected Poems of Lucille Clifton, 1965-2010, edited by Kevin Young and Michael S. Glaser, BOA Editions.
If you haven't already, we recommend that you purchase the book for this course.
Dates/Times:  Thursdays, April 21-May 12, 2022  4:00-6:00 PM (Pacific) on Zoom
Tuition:  $240. We have some limited financial aid for those who require it. Contact Brett Hall Jones to enquire about financial support.
What to Expect:
Four, two-hour weekly sessions online with assigned reading.

In the first hour, Ali will explore and supply background on the previously assigned poems. When possible, we will read through the poems together.

In the second hour, we will meet in a large group for conversation and questions, or, with the longer, more complicated poems, to enter into deeper focus.

Participant questions and comments may be addressed using Zoom's chat feature.

Optional small (8-10 person) discussion groups will be available to those with the energy and interest after the formal session is over. Discussion guides will be provided.
Recordings:
These sessions will be recorded, and will be available for later viewing by registered participants for 3o days following the final session. 
Course Plan: 
Week 1: Thursday, April 21
Lucille Clifton, American Poet: Social and Political History in the Work of Lucille Clifton
Week 2: Thursday, April 28
Illuminate I Did: Myth, Spirituality, and Religion in the Work of Lucille Clifton 
Week 3: Thursday, May 5
Born in Babylon: Lucille Clifton's Poetry of the Body
Week 4: Thursday, May 12
Adam and His Mother: Poetic Form and Prosody in the Work of Lucille Clifton
Register Now