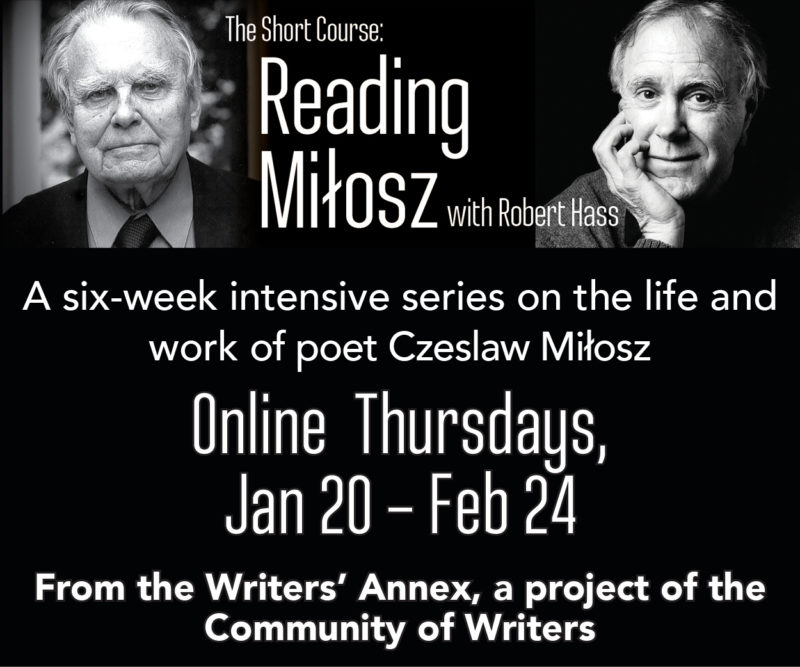 The Community of Writers is honored to present a six-week intensive series on the life and work of poet Czeslaw Milosz taught by Pulitzer Prize-winning poet Robert Hass.
Thursdays, January 20 – February 24, 2022
Czeslaw Milosz, who won the Nobel Prize for literature in 1980 and is generally regarded as one of the great poets of the twentieth century, produced a large and various body of poetry. His friend and neighbor Robert Hass worked with him on the translation of his poems for more than twenty-five years. Many of those make up the body of work collected in Czesław Miłosz, New and Collected Poems, a compilation which takes us across much of the intense life of the European twentieth century, in a poetry that uses ceaselessly inventive techniques and approaches to a range of subjects.
How does the poetry of Czeslaw Milosz read in the early twenty-first century? This intensive series offers a chance to read through this brilliant and challenging body of work guided by former director of the Community of Writers' Poetry Workshop, Robert Hass. Our host will be poet Jesse Nathan, who will moderate and join the discussions.
This short course is for anyone who has an interest in reading or writing poetry. All are welcome.
What to Expect:
Six, two-hour weekly sessions online with assigned reading.
In the first hour, Hass will explore and supply background on the previously assigned poems: Milosz's aesthetic, and the circumstances of their making. When possible, we will read through the poems together.
In the second hour, we will meet in a large group for conversation and questions, or, with the longer, more complicated poems, to enter into deeper focus.
Participant questions and comments using Zoom's chat feature will be moderated by host Jesse Nathan.
Optional small (8-10 person) discussion groups will be available to those with the energy and interest after the formal session is over. Discussion guides will be provided.
Dates/Times:
Thursdays, January 20 – February 24