April, 2021 – Poem First Aid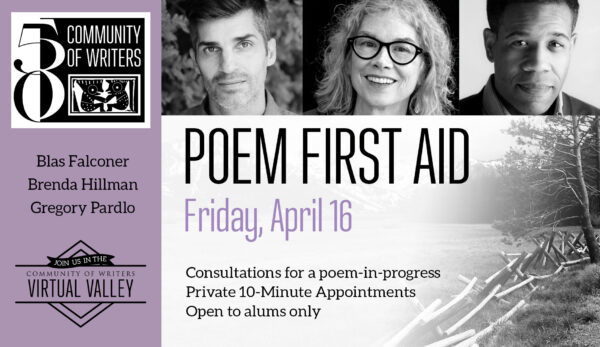 Private Consultations about a poem-in progress.
Blas Falconer • Brenda Hillman • Gregory Pardlo
Friday, April 16, 2021
First-come first-served: appointments are limited.
Quick ten-minute consultations will be offered in the Virtual Valley (though Zoom) with some of our wonderful staff poets,
Blas Falconer, Brenda Hillman
and
Gregory Pardlo
.  We ask that you limit yourself to one specific question about your poem-in-progress. Your poem or poem excerpt should be less than one-page long, and will be read during the appointment. (Zoom's share screen function.)
A Poetry Elf will be on hand to help with all things technical, and as a time-keeper.

Private 10-Minute Appointments: $18

This program is only open to alums of the Poetry Workshop of the Community of Writers.
"Thank you for offering Poem First Aid! I can't believe how much was accomplished in ten minutes!  Brenda Hillman was brilliant and incredibly insightful.  She quickly identified just what I was trying to do, and I finally feel clarity on that poem. Thank you for offering this service to poetry alums. This makes me miss being there in person, but I'm so grateful my poem and my poetry had this opportunity!"
–Poetry Alum and First Aid Participant
Poem First Aid Session
This event has sold out.