The Community of Writers is pleased to present Comet of Stillness, the latest project of the Writers' Annex: a five-week short course on the life and work of poet W.S. Merwin, led by esteemed poets Victoria Chang and Matthew Zapruder. 
Online Sundays, January 22 – February 19, 2023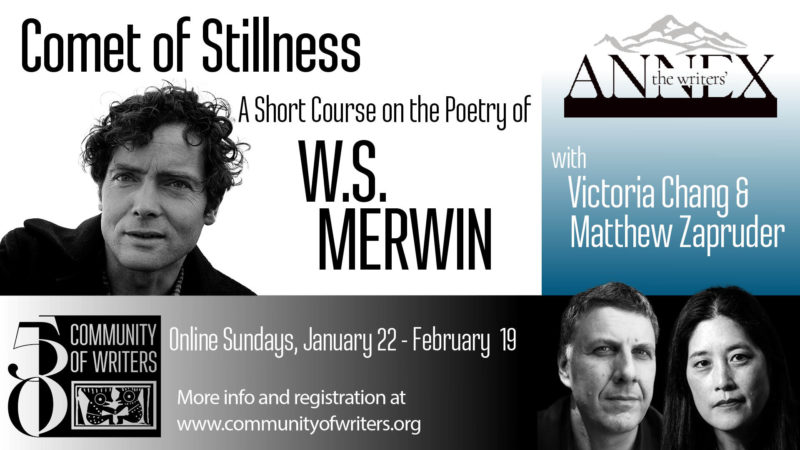 W.S. Merwin's poetry was visionary, ecological, anti-war, and humanist, and exhibits a clarity and strangeness that continues to exert a profound influence on contemporary American poetry. The goal of these five sessions is to dive deeply into this extraordinary poet and his body of work. Across five sessions, poets Victoria Chang and Matthew Zapruder will facilitate close-readings of key poems, and will situate the poems, and the poet, in their historical contexts. The course will explore Merwin's formal innovations, his thematic concerns, and his development as a poet from his earliest work to his final poems. Chang and Zapruder will introduce, and talk with, key figures from his literary life, including Merwin's long-time editor at Copper Canyon Press, Michael Wiegers.
In addition to course meetings, Chang and Zapruder will provide additional reading materials. Each session will begin with an hour of discussion, including background and close readings, followed by a ten-minute break. The session will then reconvene for a second hour in which Chang and Zapruder will discuss thoughts from the chat, answer questions, and offer further insights. Each session will end with an optional poetry writing prompt based on Merwin's poetry.
Dates/Times:  Sundays, January 22 – February 19, 2023  4:00-6:00 PM (Pacific) on Zoom
Tuition:  $300.
Financial aid is available. Please contact us if needed.
For their guidance and support, thank you to our friends at Copper Canyon Press and The Merwin Conservancy.

Bios
Victoria Chang's forthcoming book of poems, With My Back to the World will be published in 2024 by Farrar, Straus & Giroux. Her latest book of poetry is The Trees Witness Everything (Copper Canyon Press, 2022). Her nonfiction book, Dear Memory (Milkweed Editions), was published in 2021. OBIT (Copper Canyon Press, 2020), her prior book of poems was named a New York Times Notable Book, a Time Must-Read Book, and received the Los Angeles Times Book Prize, the Anisfield-Wolf Book Award in Poetry, and the PEN/Voelcker Award. It was also longlisted for a National Book Award and named a finalist for the National Book Critics Circle Award and the Griffin International Poetry Prize. She has received a Guggenheim Fellowship, and lives in Los Angeles and is the Acting Program Chair and faculty member within Antioch's low-residency MFA Program. She is also the Poetry Editor for the New York Times Magazine. victoriachangpoet.com
Matthew Zapruder is the author of five collections of poetry, most recently Father's Day (Copper Canyon), as well as Why Poetry (Ecco/Harper Collins). He is editor at large at Wave Books, where he edits contemporary poetry, prose, and translations. From 2016-17 he held the annually rotating position of Editor of the Poetry Column for the New York Times Magazine. He teaches in the MFA in creative writing at Saint Mary's College of California. A book of prose, Story of a Poem, will be published by Unnamed Press in April, 2023. matthewzapruder.com
W.S. Merwin was born in New York City in 1927 and was United States Poet Laureate in 2010. He graduated from Princeton University in 1948, where he studied with John Berryman and R.P. Blackmur. From 1949 to 1951 he worked as a tutor in France, Mallorca, and Portugal; for several years afterward he made the greater part of his living by translating from French, Spanish, Latin, and Portuguese. His first book of poetry, A Mask for Janus (1952) was selected by W.H. Auden for the Yale Younger Poets prize. Since then, Merwin has authored dozens of books of poetry and prose. His work embodies a bold commitment to experimentation and transformation rooted in the moral necessity of bearing witness, and is influenced by his profoundly environmentalist, pacifist, and anti–imperialist beliefs. He won many awards, as well as fellowships from the Rockefeller and the Guggenheim Foundations and the National Endowment for the Arts. W.S. Merwin passed away on March 15, 2019 at his home near Haiku-Pauwela, Hawaii. He was 91. merwinconservancy.org
Lisa Alvarez's poetry and prose has been published in Borderlands: Texas Poetry Review, Huizache, [PANK], Santa Monica Review, TAB Journal and most recently in So It Goes, the literary journal of the Kurt Vonnegut Museum and Library as well as anthologies including Sudden Fiction Latino: Short-Short Stories from the United States and Latin America (Norton). Along with Andrew Tonkovich, she co-edited Orange County: A Literary Field Guide (Heyday). She is the editor of the forthcoming Why to These Rocks: 50 Years of Poems from the Community of Writers (Heyday). Born in Los Angeles, she earned an MFA from UC Irvine and has taught for nearly 30 years as a professor of English at Irvine Valley College. She co-directs the Writers Workshops, and serves serves as Assistant Program Director at the Community of Writers.
What to Expect:
Five, two-hour weekly sessions online with assigned reading of poems and supplemental material.
In the first sixty or seventy minutes of each session, Victoria Chang and Mathew Zapruder will explore and supply background on the previously assigned poems.
In the second hour, we will reconvene in our large group for conversation and questions.
Participant questions and comments may be addressed using Vimeo's chat feature during the second hour, though questions can be posted in the chat throughout the session.
Optional small (8-10 person) discussion groups will be available to those with the energy and interest after the formal session is over.
Optional writing prompts based on Merwin's poems will be provided.
This course will be presented live online on the Vimeo platform.
These sessions will be recorded, and will be available for later viewing by registered participants for 30 days following the final session.
The Text:
For this course, our text will be The Essential W.S. Merwin; handouts for each session will be posted online.
Participants who don't own the text are asked to purchase and explore it, if possible, before January 22.
The Essential W.S. Merwin (Copper Canyon Press)
THE SHORT COURSE PLAN:
Session 1 (Jan. 22): Introduction and early forms
Session 2 (Jan. 29):  The Lice: war and the environment
Session 3 (Feb 5): Middle Period: intellect, resistance, and formal innovation
Session 4 (Feb. 12): The Vixen: time and ghosts
Session 5  (Feb 19): Late poems and Merwin's poetic legacy
Online, and year-round, The Writers' Annex is composed of short courses, seminars, workshops, and more. Our vision is to bring the creative insight and experience of our staff poets and prose writers to our community in all seasons, not just in the summertime, and not just here in our Valley. Our online offerings will address such topics as eco-poetics, translation, and generative sessions. Some will be one or two days, some will be weekend intensives, and some will meet weekly for a month or two. In addition, we hope these offerings will help offset the tremendous expenses we incur each summer bringing excellent writers of poetry and prose to the Valley regardless of their ability to pay.