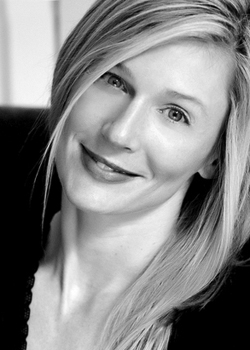 Christina Meldrum was a brilliant novelist who was an admired member of the Community of Writers Summer Writing Workshops. She first came to the Community of Writers as a participant in 2005, then returned in 2008 to read from her newly published book, Madapple, for our Published Alumni reading Series. She returned to teach at the summer workshop in 2014. Those of us who came to know her appreciated her intellect, creativity, compassion, and grace.
Born in Flint, Michigan on May 6, 1968, Christina was committed to intellectual growth, graduating summa cum laude from University of Michigan and earning her JD from Harvard Law School. After practicing litigation with Sherman & Sterling, Christina turned commitments to writing novels and raising her two boys, Jacob & Owen, in partnership with her husband Doug Dexter.
Christina's first novel, Madapple (Knopf 2008), was a Finalist for the William C. Morris and the Penn U.S.A. Literary Awards, a Booklist Editor's Choice, and a Kirkus Reviews Best Book. Her second novel, Amaryllis and Blueberry (Simon and Schuster 2011), similarly explored the intersections of religion, family, and moral responsibility. At the time of her passing, Christina was finalizing her third novel, examining the relationship between authoritarian governance and ethnic identity — presently crucial topics that were less obvious when Christina formulated the book concept five years ago.
Christina formed Village to Village, financially supporting primary education in Liberia. Locally, she coached youth in cross country, Odyssey of the Mind, high school mock trials, and creative writing. Christina loved nature, raising chickens, and supporting others in her family. Christina's commitment to her boys was constant, enduring, and effective.
Christina took her own life on Sunday, August 2nd, 2020 due to health conditions that she believed could not be resolved. Her friends in the Bay Area, Santa Barbara, and Michigan join her husband, Doug Dexter, her two sons, Jacob and Owen, in grieving her tragic death.
Eligibility:
This scholarship is intended for a fiction writer who has not attended previously the workshops.
Amount of Scholarship:  TBD
This scholarship will be granted annually, and the amount of the scholarship will determined based on available funds. It is our intention to support a full tuition scholarship annually for a long as the funds last. Scholarships will be in the form of a tuition waiver.
Donate: Donations to this scholarship may be made by completing our donate form online (in indicating "Christina Meldrum Scholarship" in the notes field on the form). Or, donors may mail a check to:
Community of Writers
PO Box 1416, Nevada City CA 95959   (Note ""Christina Meldrum Scholarship" on the check.)
If a stock donation is preferred, please contact us.
For more information contact Brett Hall Jones at
530-470-8440 or email her.