The Community of Writers is honored to present a four-week intensive series on the craft of Ursula K. Le Guin, led by novelist Karen Joy Fowler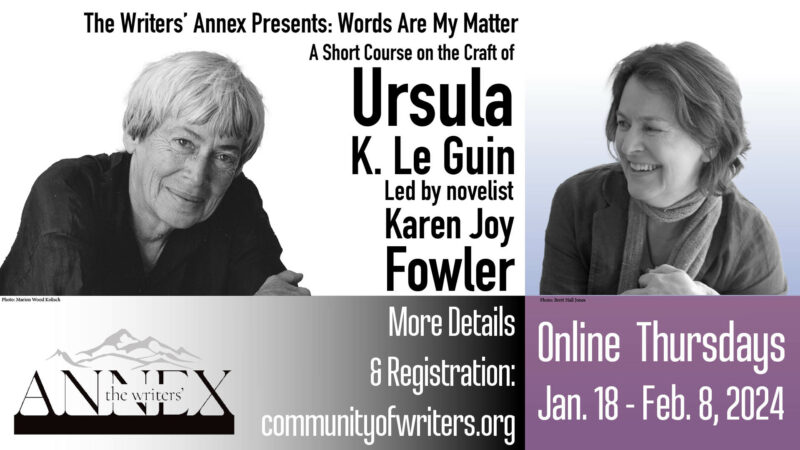 From Karen Joy Fowler: "I once asked Le Guin how many books she had written and she'd lost count. So this four-session course will serve merely as a taster menu, a brief introduction to her in the many forms at which she excelled – stories, novels, essays, poetry. We will talk about her politics, her utopias, her dystopias, about the subversive potential of fantasy, about her intentions, about her prose, and her craft. Ursula K. Le Guin is a reader's writer, but also a writer's writer. So many writers like me have merely walked through the door she opened."
For most of the decades of Ursula K. Le Guin's career, realism was the dominant literary mode in America. This preference for realism is, fundamentally, a decision to value real world (whatever that means) experience over the limitless possibilities of the imagination. Le Guin was a great champion of the imagination, her own having such a powerful gravitational pull that eventually all of American letters bent around it. Sometimes when you find yourself at odds with the world, it is the world that has to change. For four weeks, along with esteemed special guests, we will explore the life and work of this tremendous writer.
Dates & Times: Online Thursdays from January 18 to February 8, 2024: 4 pm- 6-pm (Pacific)
Thursday, January 18, 2024 
Thursday, January 25, 2024 
Thursday, February 1, 2024 
Thursday, February 8, 2024 
Note: For those who are interested, intimate Zoom discussion groups (Virtual Houses) will meet after each session and on subsequent Saturdays at 10 AM.
Course Texts
Participants who don't own the texts, are asked to purchase them, if possible, before January 18. For this course, our texts will be:
The Lathe of Heaven – Scribner; Reprint edition (April 15, 2008)
The Birthday of the World: And Other Stories– Harper Perennial; Reprint edition (March 4, 2003)
Handouts for each session will be posted online. Additional reading materials, including essays and poems will be added.
Course Plan:
Session 1 – January 18
Guest: Brian Attebery
Subject: Essays
Session 2 – January 25
Guest: John Kessel
Subject: Short Fiction
Session 3 – February 1
Guest: Kelly Link
Subject: The Lathe of Heaven
Session 4 – February 8
Guest: Molly Gloss
Subject: Poetry and Craft
Bios
Karen Joy Fowler is a novelist and writer of short fiction. Her work ranges from literary to science fiction, from contemporary to historical. We Are All Completely Beside Ourselves won the 2013 PEN/Faulkner Award, the California Book Award, and was shortlisted for the Man Booker in 2014. Her novel Booth was published by G.P. Putnam's Sons in 2022. She lives in Santa Cruz, California. www.karenjoyfowler.com
Ursula K. Le Guin (1929-2018) was a celebrated author whose body of work includes 23 novels, 12 volumes of short stories, 11 volumes of poetry, 13 children's books, five essay collections, and four works of translation. The breadth and imagination of her work earned her six Nebula Awards, seven Hugo Awards, and SFWA's Grand Master, along with the PEN/Malamud and many other awards. In 2014 she was awarded the National Book Foundation Medal for Distinguished Contribution to American Letters, and in 2016 joined the short list of authors to be published in their lifetimes by the Library of America.
What to Expect:
Four, two-hour weekly sessions online with assigned reading. The group can be large, depending on the course.
Each session will feature a special guest whose insights pertain to one aspect of Le Guin's craft, poetics, politics or biography.
In the first 60 or 70 minutes, Fowler and her guest will explore and supply background on the previously assigned poems.
In the second part, Fowler will address questions and widen the discussion. Participant questions and comments will be submitted in Vimeo's chat feature.
Optional small (8-10 person) discussion groups will be available to those with the energy and interest after the formal session is over. Discussion guides will be provided.
These sessions will be recorded, and will be available for later viewing by registered participants for 30 days following the final session
Tuition:
Tuition is $240.
Early Bird discount tuition of $215 (closes on January 10, 2023). Limited financial aid available. Please contact us if needed.
The Writers Annex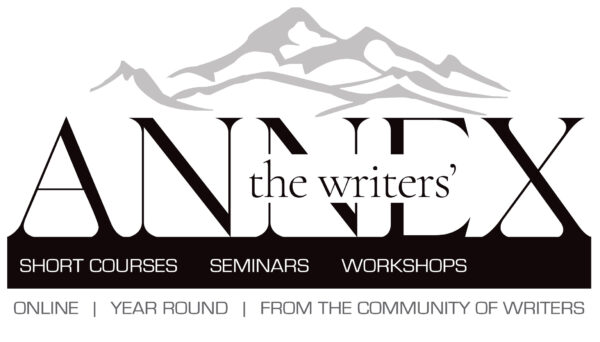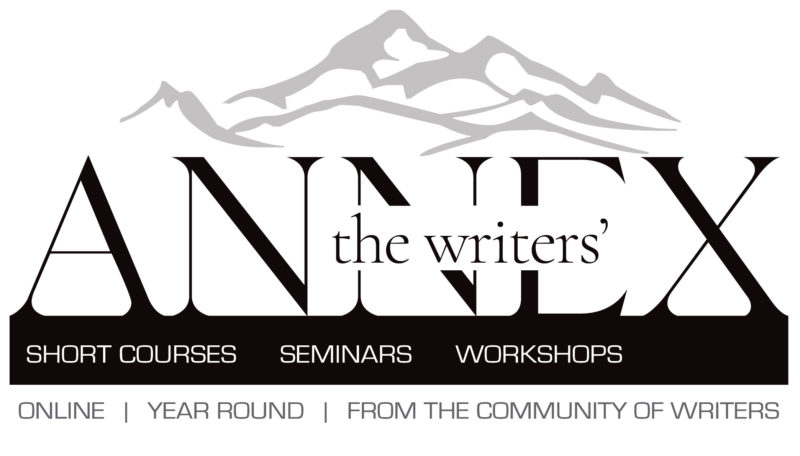 Online, and year-round, The Writers' Annex is composed of short courses, seminars, workshops, and more. Our vision is to bring the creative insight and experience of our staff poets and prose writers to our community in all seasons, not just in the summertime, and not just here in our Valley.  Our online offerings will address such topics as eco-poetics, translation, and generative sessions. Some will be one or two days, some will be weekend intensives, and some will meet weekly for a month or two. In addition, we hope these offerings will help offset the tremendous expenses we face as an organization for our traditional in-person events in Olympic Valley.   Join our Mailing List