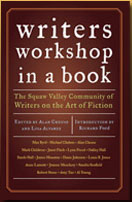 By Alan Cheuse (Editor), Lisa Alvarez (Editor), Richard Ford (Introduction)
Since 1969, the Community of Writers has helped develop the art and craft of many who are now household names. Instructors such as Michael Chabon, Mark Childress, Diane Johnson, Anne Lamott, Robert Stone, and Amy Tan have distilled their advice and wisdom from seminars and lectures, and the result is a book that captures the workshop experience of complete submersion in the writing process. With an introduction by novelist and short story master Richard Ford, himself a conference attendee in the 1970s, this volume gives the writer and dedicated reader a jolt of inspiration, sharp insight into matters of technique, and a feeling of camaraderie with a writing community.
Editorial Reviews
From Publishers Weekly
This collection from the Community of Writers summer writing workshop, one of the oldest in the U.S., boasts an impressive list of alumni among its contributors, including Amy Tan, Michael Chabon, Richard Ford, Anne Lamott and Mark Childress. Rather than exercises and suggestions, however, this "workshop" is populated with literate, thoughtful essays on different aspects of crafting fiction. Ford's foreward begins with some blunt advice: one "should treat the decision to write like a decision to get married: try to talk yourself out of it if you can." Standouts include James D. Houston's essay on the role of setting, which shapes not just "grounding and location," but "the dreams you dream… your view of history, sometimes your sense of self." Janet Fitch advises a deep plunge into sensual details: "Take a bite of a tangerine… and try to work your way into the place it came from, to a time and a place and a season." A new or struggling writer will get the most out of Lamott's "The Clinic," in which she advises, "write what you want to come upon," what makes "something inside of you… go 'oooh.' " […]–writers will find much of these new and previously published essays worthwhile and motivating, perhaps none more so than Tan's essay on "Angst and the Second Book," which first appeared in the pages of PW. Copyright © Reed Business Information, a division of Reed Elsevier Inc. All rights reserved.