Online – Sundays, January 22 – February 19, 2023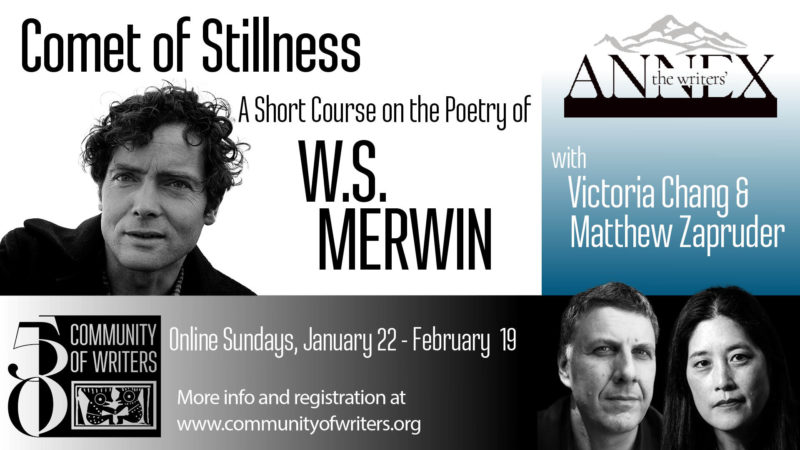 W.S. Merwin's poetry was visionary, ecological, anti-war, and humanist, and exhibits a clarity and strangeness that continues to exert a profound influence on contemporary American poetry. The goal of these five sessions is to dive deeply into this extraordinary poet and his body of work. Across five sessions, poets Victoria Chang and Matthew Zapruder will facilitate close-readings of key poems, and will situate the poems, and the poet, in their historical contexts. The course will explore Merwin's formal innovations, his thematic concerns, and his development as a poet from his earliest work to his final poems. Chang and Zapruder will introduce, and talk with, key figures from his literary life, including Merwin's long-time editor at Copper Canyon Press, Michael Wiegers.
In addition to course meetings, Chang and Zapruder will provide additional reading materials. Each session will begin with an hour of discussion, including background and close readings, followed by a ten-minute break. The session will then reconvene for a second hour in which Chang and Zapruder will discuss thoughts from the chat, answer questions, and offer further insights. Each session will end with an optional poetry writing prompt based on Merwin's poetry.
Dates/Times: Sundays, January 22 to February 19, 2023 4:00-6:00 PM (Pacific) on Zoom