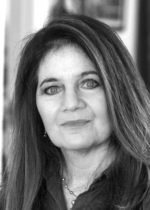 Patricia K. Meyer, a screenwriter, producer, and educator, has sold and written numerous feature screenplay adaptations, from dark comedy to true crime drama, for Martin Scorsese, Robert De Niro, and all the major studios. In addition, she has written miniseries and movies-of-the-week, as well as an original drama pilot for CBS. Her ABC 4-hour miniseries based on The Women of Brewster Place, starring Oprah Winfrey, earned an Emmy® nomination and Image Award.
She also executive produced Nora Ephron's directorial debut, This is My Life, for 20th Century Fox, based on the Meg Wolitzer novel which she optioned.
Meyer is a longtime member of the Writers Guild of America and the Academy of Television Arts & Sciences. After ten years teaching screenwriting at the AFI Conservatory, she has spent the past seven years as an Associate Clinical Professor and the Graduate Director of Screenwriting at Loyola Marymount University's School of Film and Television.
In 2019 she was named one of the top film educators in the country by Variety.
Meyer earned a BA in History and Literature from Harvard University and an MFA in Fiction Writing from Boston University.