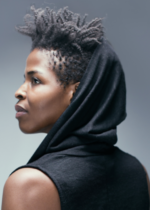 Arisa White is a Cave Canem fellow, Sarah Lawrence College alumna, an MFA graduate from the University of Massachusetts, Amherst, and author of the poetry chapbooks Disposition for Shininess, Post Pardon, Black Pearl, Perfect on Accident, and "Fish Walking" & Other Bedtime Stories for My Wife won the inaugural Per Diem Poetry Prize. Published by Virtual Artists Collective, her debut full-length collection, Hurrah's Nest, was a finalist for the 2013 Wheatley Book Awards, 82nd California Book Awards, and nominated for a 44th NAACP Image Awards. Her second collection, A Penny Saved, inspired by the true-life story of Polly Mitchell, was published by Willow Books, an imprint of Aquarius Press in 2012. Her latest full-length collection, You're the Most Beautiful Thing That Happened, was published by Augury Books and nominated for the 29th Lambda Literary Awards. Most recently, Arisa co-authored, with Laura Atkins, Biddy Mason Speaks Up, a middle-grade biography in verse on the midwife and philanthropist Bridget "Biddy" Mason, which is the second book in the Fighting for Justice series. Biddy Mason Speaks Up was awarded the Maine Literary Award for Young People's Literature, Nautilus Book Award Gold Medal for Middle-Grade Nonfiction, and the Independent Publisher Book Awards Silver Medal for Multicultural Juvenile Nonfiction. Forthcoming in March 2021 is the poetic memoir Who's Your Daddy and the anthology Home is Where You Queer Your Heart, co-edited with Miah Jeffra and Monique Mero and published by Foglifter Press.
Arisa was awarded a 2013-14 Cultural Funding grant from the City of Oakland to create the libretto and score for Post Pardon: The Opera, and received, in that same year, an Investing in Artists Grant from the Center for Cultural Innovation to fund the dear Gerald project, which takes a personal and collective look at absent fathers. As the creator of the Beautiful Things Project, Arisa curates poetic collaborations that center narratives of women, queer, and trans people of color.
A native New Yorker, living in central Maine, Arisa is an assistant professor in creative writing at Colby College and serves on the board of directors for Foglifter and Nomadic Press. She also volunteers as an advisory board member for Gertrude and a community advisory board member for Maine Writers & Publishers Alliance.